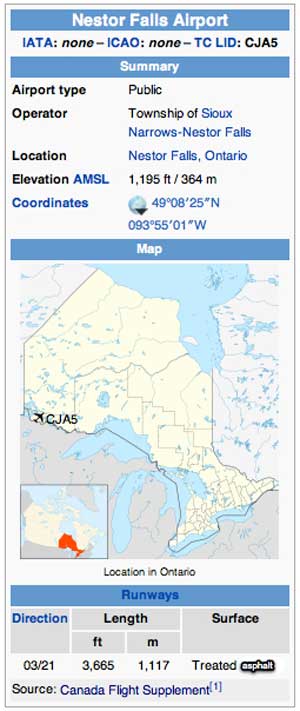 Nestor Falls Airport
The Nestor Falls Airport/Landing strip is operated under the authority of the Township of Sioux Narrows – Nestor Falls.Transport Canada details:
(TC LID: CJA5), is located 1 NM (1.9 km; 1.2 mi) north of Nestor falls, Ontario, Canada.
Border Crossing
All sporting equipment, clothing, cameras, supplies, etc. usually considered necessary for a holiday are duty-free. Our customs officers are courteous and considerate so that legitimate travellers should have no difficulty crossing the border – either way.
PLEASE NOTE: Revolvers and pistols are prohibited in Ontario.
Distances from our location:
International Falls……. 70 miles
Minneapolis …………. 390 miles
Chicago …………….. 765 miles
Kenora …………. 110 kilometers
Winnipeg ……….. 314 kilometers
Toronto ……….. 1637 kilometers
Some Useful Links
Canada Border Services Agency
Current Border Wait Times
Passport Requirements for U.S Citizens
General Ontario Fishing Information
Fishing Regulations